ALOHA KE AKUA
SKU:
CHF35.00
CHF35.00
Unavailable
T-SHIRT UOMO
Mantra Aloha Ke Akua: "To recognize ke Akua (God) as the supreme being, to acknowledge His hand in all things, and to be appreciative of His many blessings."

Mantra Aloha Ke Akua: "Riconoscere ke Akua (Dio) come l'essere supremo, a riconoscere la Sua mano in tutte le cose, e ad apprezzare le Sue molte benedizioni."
Powered by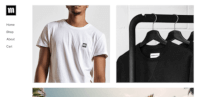 Create your own unique website with customizable templates.