Wear A Mantra
T-SHIRTS FOR AWAKENING
WEAR A MANTRA

positively uplifting!
---
Wear A Mantra is a collection of ideas, concepts, beliefs and prayers put together by italian/Dutch couple Arianna Artioli and Igor Ezendam, she lover of yoga and mantra's, he lover of sound and harmonics.

Wear A Mantra proposes to wear words, phrases, ideas, mantras, blessings and prayers on our body to experience the physical effect that we hope will improve your day!

---
| | |
| --- | --- |
| | Our T-shirts are designed to resonate through our body with positive words and mantra. As the Japanese researcher Masaru Emoto shows, water receives messages from words, sounds and images. As our body is mostly water, it can receive the information that we give through our thoughts, our words and our surroundings. |
---
We work with Spreadshirt, an international company allowing us to offer you a wide range of products and quick, quality delivery. We use Bio cotton T-shirts for our mantras.

10% of the proceeds will be donated regularly to international associations that help children and others that carry the water where it is needed. We love this wonderful planet and all living beings, this is a small step we take to bring more beauty into our lives. Thank you for choosing to support Wear A Mantra!

---
WHO'S BEHIND IT

---
Arianna, a certified teacher of Hatha Yoga and Meditation and Anukalana Yoga, is passionate about Kirtan, Hawaiian chants and sacred dances, Bach Flowers, psychosomatics, empathic communication ... and vegetarian cuisine.

Since 2010 she accompanies Igor in his harmonic singing seminars, adding a humorous and devotional vein and a little bit of healthy movement.


Igor is a Dutch singer, voice-coach and multi-instrumentalist, inspired by Tuvan (Mongolia), Tibetan, Sufi, Native American, African, Aboriginal and all the world's freestyle singers.

He specializes in a overtone singing technique which creates a double whistle-like sound in his voice. He teaches vocal freedom and harmonics, together with his companion Arianna.
Check their music website: feelingsound.com

Powered by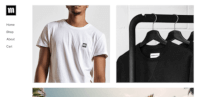 Create your own unique website with customizable templates.